Souris Hotel is a family run hotel and it consists of 28 rooms and Suites. It is located in Rovies, a beautiful and picturesque village of Evia island in Greece, well known for its endless beaches with crystal waters, for its unique romantic sunsets and also for the harmony between the blue of Evoikos Gulf and green landscape. Just few meters away from Souris hotel you will be able to reach the central beach of Rovies village so as the small town of Limni Evia which is at a distance of only 9 kilometers from hotel.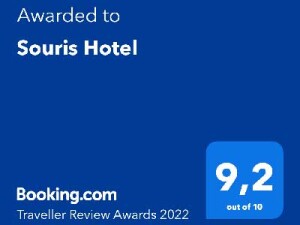 Combining Traditional and Modern Style
Souris hotel complex surrounded by fully flowered mediterranean gardens. It is built within a green landscape while the view is elevated panoramic to the sea on one side as well as to the piny hills of Rovies Evia island village on the other side, due to the unique architecture of the building. Choose Souris hotel and discover the natural beauties of North Evia Island so as its impressive sights.
Souris hotel in Rovies Evia island consists by modern styled spacious deluxe rooms and Junior Suites (2 bedrooms) with carefully selected decoration, hidden atmospheric lighting, bright colors and well known materials (high quality mattresses of Candia Strom brand, Guy Laroche linens, etc.) so as standard rooms and family apartments furnished in a more classic way. All the rooms are fully equipped and they provide a balcony with view to Evoikos Gulf or the flowery gardens of hotel or the green hills surrounding harmonically the area.
The village Rovies or Orobiai at its ancient name, is located 80 Km of north-westernly Chalkida that are also the capital of island. Built in the arc that they shape the Pinewood Mountains Telethrio and Rider and into an immense olive grove that it links their foot of mountain with the sea, is one from the most graphic and most beautifully seaside villages of Evia with endless beaches, crystal blue waters and lots of greenery.
Suggested activities in north Evia island and Visit suggestions in north Evia.
North Evia is a destination with a lot of well known orthodox sights where many pilgrims from Greece or other countries prefer to visit them all the periods of the year.
Access & Useful Telephones
How you can approach Rovies Village, some useful telephones and the nearest airports in Evia.
Events & cultural festivals
Topical festival in Rovies village (28 and 29 June) Cultural festival (July and August) Olive festival in Rovies (August) Festival of traditional dances (July and August)